Attorney Profile
What happens when a native Californian gets tired with wandering the world? What does a member of the Foreign Service specializing in security do when he decides he wants to do more to help individuals? How does a Cal grad in a reactive career like security shift gears to allow for proactive work? You send him to law school - in this case to the University of Idaho College of Law.
So began the journey that is presently a solo law practice in San Diego. In 2001 Mr. Hartley took his legal experience with the public defenders for the Nez Perce tribe and a small litigation firm in Monterey, California, and matched it with his small business experience as a freelance web designer and the discipline and professionalism instilled in the Foreign Service, and started working with small businesses, contractors and individuals to meet their legal needs.
He still occasionally takes freelance writing and photography projects because he enjoys them, and reported on developments and moderated discussion on a separate website for coastal access law issues. From January through November 2008 he also writw on politics and election issues as part of KPBS' Citizen Voices project.
Mr. Hartley also bodyboards, surfs, kayaks, swims, and is a big fan of whichever Cal team happens to be playing.
He is a member in good standing of the State Bar of California (Bar number 203381) and admitted to practice before the U.S. Court of Appeals for the Ninth Circuit.
Past Employment Details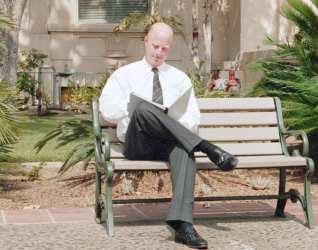 The Diplomatic Security Service, a branch of the U.S. State Department, hired Mr. Hartley as a Foreign Service Security Officer after he received his B.A. from Cal. After training he was assigned to the Washington Field Office, where he conducted investigations and worked in various personal protection details as a Special Agent. He transferred to the Office of Counterintelligence Programs of the Diplomatic Security Service where he investigated suspected criminal and administrative misconduct, maintained liaison with other law enforcement agencies, and conducted briefings related to hostile intelligence efforts directed against U.S. Embassies abroad.
He transferred to the American Embassy at La Paz, Bolivia in late 1991, where his responsibilities as Assistant Regional Security Officer at La Paz included investigations, physical security, procedural security, police liaison and supervision and training of Bolivian National Police assigned to the American Embassy as site security and bodyguards. From La Paz he transferred to Lome, Togo. While serving as Regional Security Officer at Lome from 1994 to 1996 he managed the security program for the American Embassies there and at Cotonou, Benin, conducting investigations, supervising U.S. Marine and locally hired guards, and working with all aspects of the security of these two U.S. government facilities.
In 1998-1999 he worked as a Public Defender on the Nez Perce Tribal Reservation (in Lapwai, Idaho) during his final year of law school under a Rule 221 limited license granted by the Supreme Court of Idaho. He defended clients charged with offenses such as rape, assault, domestic battery, public intoxication and probation violations.
He returned to California in 1999, passed the July 1999 administration of the bar exam and was sworn into the California State Bar on December 6, 1999. In 2000-2001 he worked as an Associate Attorney in a small firm emphasizing civil litigation in Monterey, California. His work there included representing clients in civil litigation alleging matters such as breach of contract, fraud, and breach of fiduciary duty. He also represented clients in family law matters, landlord-tenant disputes and advised clients on contracts, business entity formation and estate planning.
Articles and Other Writings
Education
• University of Idaho, College of Law, J.D, 1999.
• Foreign Service Institute, French language and Francophone Africa area studies, 1994.
• Foreign Service Institute, Spanish language and Andean Region area studies, 1991.
• Federal Law Enforcement Training Center, Glynco, Georgia, Criminal Investigator course, 1987.
• University of California at Berkeley, B.A. with double major in Political Science and Geography, 1986.
• Huntington Beach High School, 1982.